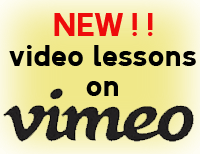 VIDEO LESSONS on VIMEO ON DEMAND
Instructions for Paypal:
1. Click "Buy Now" button to pay via Paypal with your credit card or Paypal account.
2. Paypal checkout summary screen has the Vimeo video code and link to "Chris Casello Music", OR check email receipt for password, use corresponding link below.
3. Paste the video code.
4. Watch the video!
Lesson: Double Stops #1 Click video link, enter password https://vimeo.com/106024503
In this lesson you learn:

1. The melodic series of chords
2. The number system
3. Basic harmony
4. How to play two notes at a time in solos and fills.

$9.99
Lesson: Double Stops #2 Click video link, enter password https://vimeo.com/106050484
$9.99
Lesson: Double stops #3 Click video link, enter password https://vimeo.com/106051600
$9.99
Lesson: Advanced Arpeggios #4 Click video link, enter password https://vimeo.com/106052291
$9.99